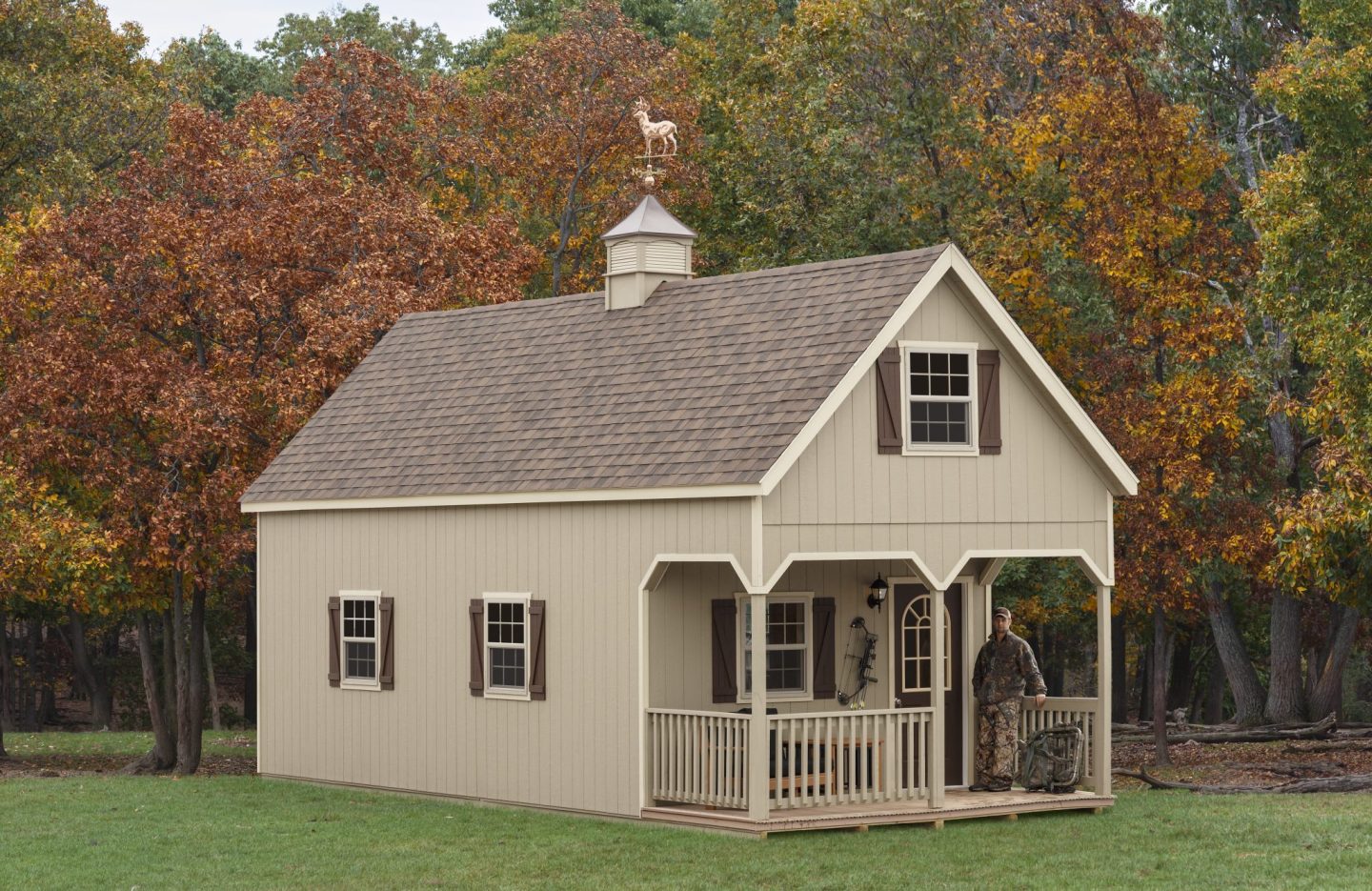 The Romance of the Summerhouse
As a home-away-from-home, the summerhouse was often sited in spots that took advantage of a garden view or a cooling summer breeze such as by the ocean. In Scandinavia the advent of the summer season heralds an end to many grey days, so it is not surprising that citizens took quickly to the notion of owning or renting a summerhouse by the sea or in the countryside to relax and kick back. Across Europe, the backyard garden house graced grand estates as a refuge for the social weary guests or romantic adventurers to retreat for a respite and some privacy. Its popularity is on the rise, as folks seek additional space to extend and improve their use of their properties.
Custom, Amish-built cabins come in all shapes and sizes, and the addition of this structure to your own corner of the world can do much to enhance your quality of living. Made primarily of wood, the building can provide plenty of room for dining on a summer evening with friends, offer a shady spot to enjoy a morning cup of coffee and read the paper, or even use as a garden studio shed where you can join the likes of writers such as Roald Dahl and George Bernard Shaw when you write your next masterpiece, who used their summerhouse studios to create their own creative retreats.
The shape you choose for your structure will not only affect the view, but also the availability of space both for inside use and its outdoor footprint. It is prudent to consider the aspects of scale, color, decking (veranda) additions, materials to be used, sightlines or views and the primary use of the building before 'planting' a custom-built summerhouse on your property.
For use of the summerhouse for dining the rectangle shape is easy to work with and for sizing you can measure out a standard dining table and add the chairs and allow a good 22 to 25 inches behind each chair for guests to be comfortable and to provide space for serving and clearing the meal.
To take advantage of a spectacular view the octagonal shape can provide the best views but wherever you choose to site your summerhouse be certain that you set the windows at the height you need so that you can enjoy the view seated but also that they provide privacy from neighbors if needed.
Once you have identified the size of gazebo you need, the materials used will naturally affect both the level of maintenance it might require and the color choices that will be available. With modern siding materials you can cut down on painting or re-staining needs and here at Stoltzfus Structures we also offer an array of roofing options to complement existing buildings on the property.
Color is an important consideration too, as colors can either blend the backyard garden house into the landscape or provide a stark contrast that will draw the eye immediately to its presence. Earthy colors such as browns and greens will offer a natural look to the building while blues and whites will reflect heat and announce summer is very much on your mind with blue skies, puffy white 'Wordsworth worthy' clouds and ocean waves.
Customization of design aspects of the structure will provide a unique summerhouse that perfectly captures your individual taste. You can truly 'think outside the box' and do not have to depend on what you see on a lot on a drive to work as an option. At least, not if you choose to work with an experienced company such as Stoltzfus Structures that is able to fulfill your every request and give you suggestions that you may choose to embrace based on their expert team's wealth of knowledge.
The finishing touch for any custom-built summerhouse will be an idyllic winding path to its door, with its surroundings decorated by Mother Nature with plants that bloom throughout the summer and add texture, color, perfume and vibrance to the space. The addition of a pond with running water or a water feature to the garden, can also add an auditory relaxation pleasure, and small trees can provide further privacy and add movement in the summer breeze.
You and your family and friends will make many happy memories in your summerhouse and delight in utilizing the fresh environment just a stroll away from your home. Take a look at what's on offer and you'll soon understand the 'romance of the summerhouse' is real when you have a home-from-home to enjoy.
Share This Post: