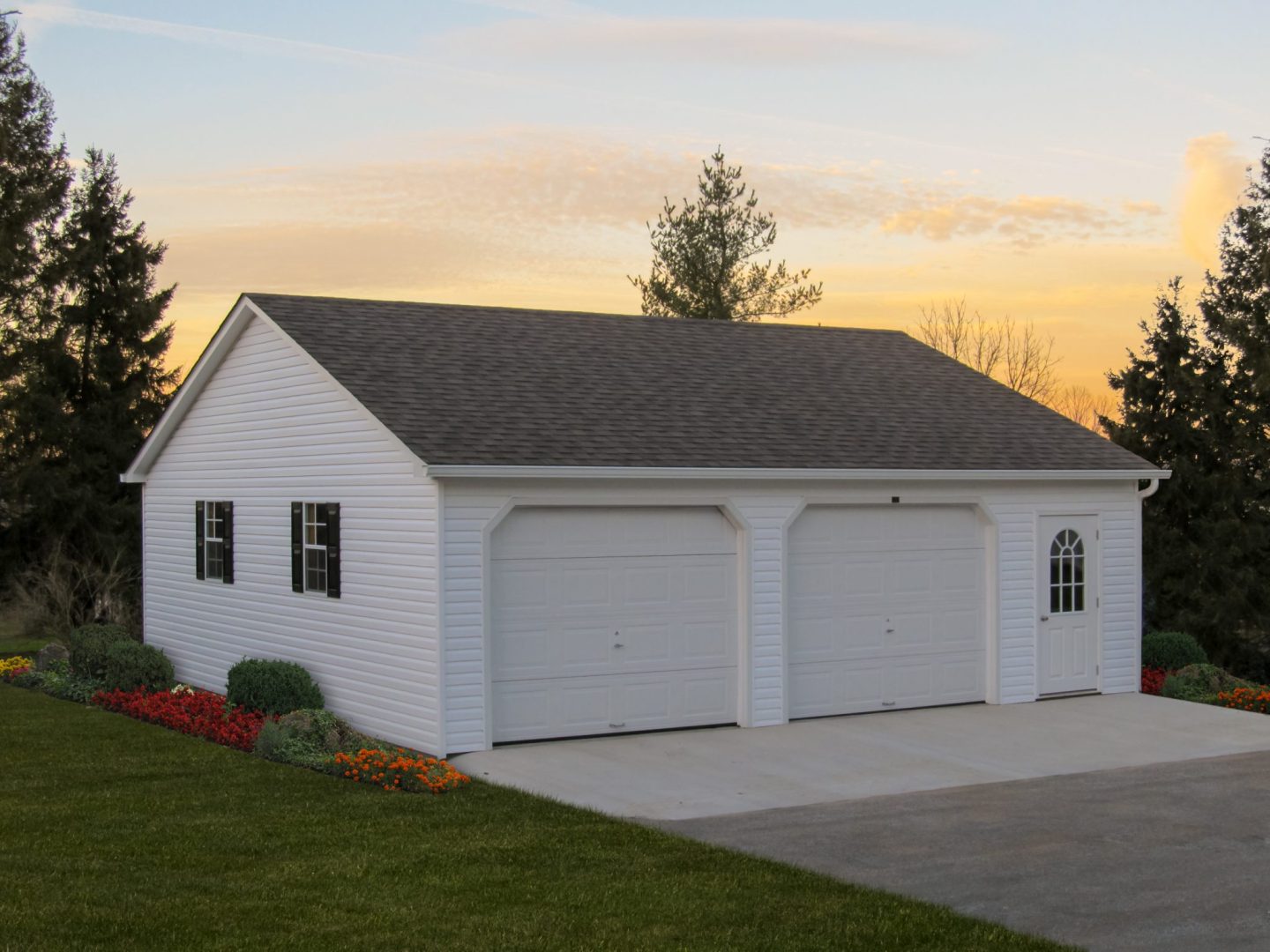 5-Pitch Built On-Site
For the most use of your garage space the clear-span truss makes perfect sense because you have no internal walls to worry about. As any interior designer will attest, the benefit of an open design is its practicality as well as visual appeal of extra space.
5-Pitch Built On-Site Garage Features
The open system also means more room to open car doors and exit your automobile, unpack groceries from the car, load in car seats and children and their endless supply of baby gear, dogs and their crates etc., as there are no pillars to obstruct your efforts. For the antique car collector the less chance you have of someone 'dinging' the paintwork the happier it makes you. Let's face it, some of us are better at avoiding obstacles when driving in tight spaces, than others.
The specially engineered trusses create great structural strength and if you wish to match the roof pitch of the garage to the roof pitch of your house this is a simple transition. A matching pitch between your house and garage provides super curb appeal for your property. An additional great benefit of an engineered truss system is it makes the permit approval process very straightforward. And who doesn't like a quick and easy permit approval!
The engineered truss system not only provides significant strength to your garage, it also enables a very short building time of just one to two days depending on the size of the garage. This is our standard one story garage and it is designed to go on a concrete pad, which makes it perfect for storing your car, lawn mowers, ATVs or other equipment. You also have the option of building it on a flat concrete pad or a concrete pad w/ block stem walls.
Built to customer's concrete pad
Pressure Treated Bottom Plate with Insulator
2 X 4 wall studs 16"OC
8' Sidewalls
1/2" Painted Smartside Wood Siding or Cedar Creek Vinyl Siding with ½''Wood Sheating
2- 9' x 7' Steel Garage Doors
36" House Door w/ Glass
(4)- 24" x 36" Windows with Shutters
5-Pitch Pre-engineered Roof Trusses 24"OC
Hurricane Straps Securing Trusses to Wall
1/2 '' Wood Sheating
15 Lbs Tar Paper
30 yr Architectural shingles
5-Pitch Built On-Site Garage Examples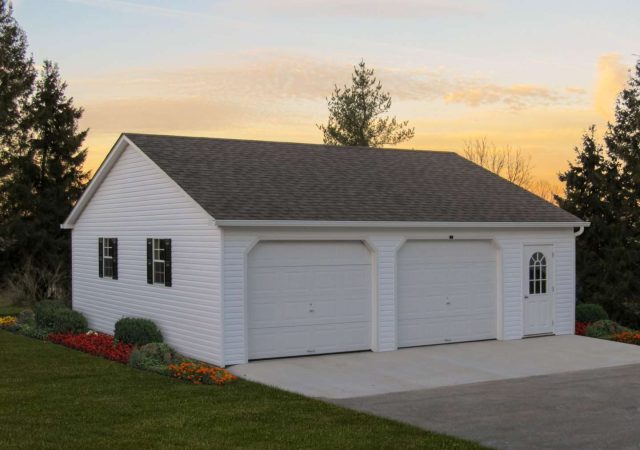 Click to Enlarge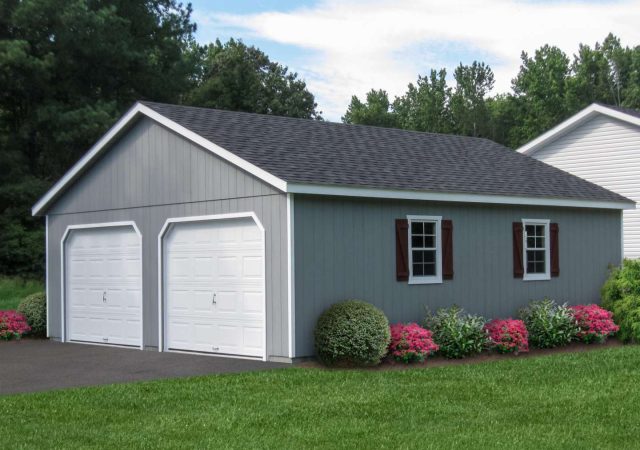 Click to Enlarge
View Additional Photos & Videos
Gallery
5-Pitch Built On-Site Garage Pricing
| | | | |
| --- | --- | --- | --- |
| Size | Wood | Vinyl | Hardi Plank |
| 20 X 20 | $9,670 | $11,930 | $13,530 |
| 20 X 24 | $11,100 | $13,700 | $15,530 |
| 20 X 28 | $12,520 | $15,460 | $17,510 |
| 24 X 24 | $12,190 | $15,040 | $17,040 |
| 24 X 28 | $13,850 | $17,100 | $19,370 |
| 24 X 32 | $15,690 | $19,360 | $21,940 |
| 24 X 36 | $17,520 | $21,630 | $24,500 |
| 24 X 40 | $19,510 | $24,080 | $27,280 |
| 24 X 42 | $20,640 | $25,470 | $28,850 |
| 24 X 44 | $21,810 | $26,920 | $30,480 |
| 24 X 46 | $23,010 | $28,400 | $32,170 |
| 24 X 48 | $24,260 | $29,940 | $33,930 |
| 24 X 50 | $25,560 | $31,550 | $35,730 |
| 24 X 52 | $26,910 | $33,210 | $37,620 |
| 24 X 54 | $28,270 | $34,880 | $39,530 |
| 24 X 56 | $29,700 | $36,670 | $41,530 |
| 28 X 28 | $15,580 | $19,240 | $21,790 |
| 28 X 32 | $17,570 | $21,680 | $24,570 |
| 28 X 36 | $19,750 | $24,380 | $27,620 |
| 28 X 40 | $22,090 | $27,270 | $30,890 |
| 28 X 42 | $23,090 | $28,500 | $32,280 |
| 28 X 44 | $24,130 | $29,780 | $33,740 |
| 28 X 46 | $25,230 | $31,140 | $35,280 |
| 28 X 48 | $26,340 | $32,510 | $36,830 |
| 28 X 50 | $27,520 | $33,970 | $38,480 |
| 28 X 52 | $28,730 | $35,460 | $40,160 |
| 28 X 54 | $29,980 | $37,000 | $41,920 |
| 28 X 56 | $31,230 | $38,560 | $43,670 |
5-Pitch Built On-Site Garage Options
Paint / Shingle Colors for 5-Pitch Built On-Site Garage
Paint Colors
Vinyl Colors
Shingle Colors
Get a Quote on a 5-Pitch Built On-Site Garage