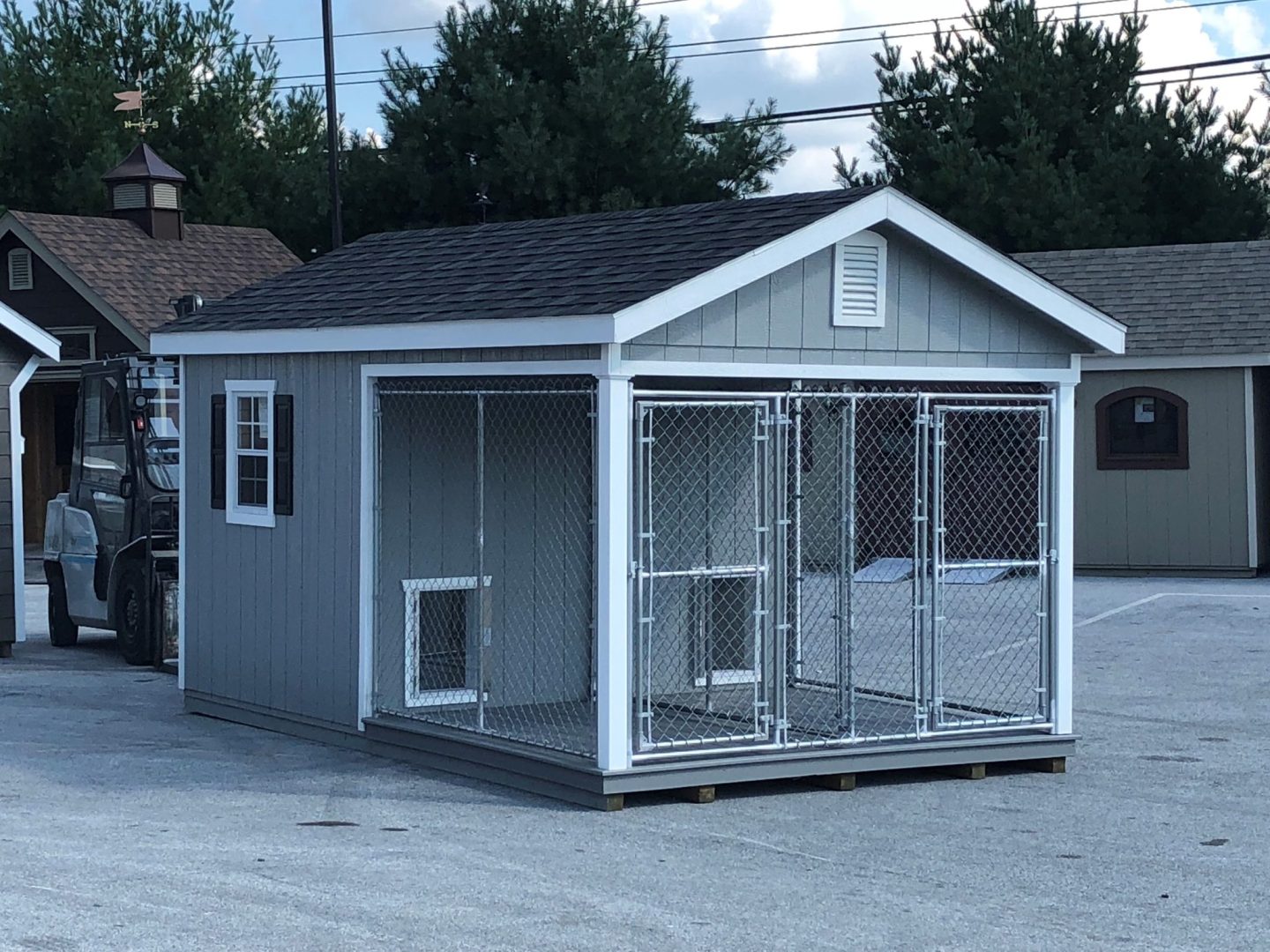 Kennels Where Canine Comfort Comes First
There is a myriad of good reasons to choose a dog kennel to house your pet. While crating your dog when you are away at work or at play will protect your home from their mischievous activities and sincere damage they can exact on your treasured belongings, a crate provides a limited space especially for larger breeds of dogs that need freedom to move around. A dog kennel can keep them safe and secure, sheltered from the weather and provide a more comfortable environment for your pet.
A kennel can be useful when you are at home too. When the holidays roll around and the family comes to visit, they often bring along their own pets. This can create mayhem in your home. How convenient would it be to offer an outside space where the canine visitors can happily hang out without getting into fights or jumping up and down off your new furniture? Older canines can easily become overwhelmed with the influx of visitors, and while young children can be instructed to leave a dog alone it is often hard to monitor their activities in the midst of the excitement of holiday happiness.
When you look for an outdoor doghouse, you will want to consider the features you'll want in the structure. A cheap wire pen from your local feed store with a plastic igloo that is cold in winter and hot in summer is not the smart solution. Instead, choose an experienced dog kennel manufacturer who offers both commercial and residential grade kennels and has the knowledge to make functional designs that are easy to clean and a pleasure to use. Even though you are purchasing a residential grade kennel, these manufacturers will often include many of the same features that a commercial kennel offers.
Here's a few things to look for in your kennel selection:
Easy Clean Surfaces Everywhere
Walls, ceilings and especially floors should all be seamless and easy to clean. Epoxy floors offer an excellent surface that will stand up to canine abuse, and properly placed drains are a must. Light bright surfaces, such as vinyl trusscore walls, offer proper height in the kennel for caregivers to stand to full-height and full-size entry doors, while maintaining a cheerful and practical environment.
Seamless and Sturdy Construction
The kennel should not be placed directly on the floor. A sturdy pressure treated 4×4 base with a moisture and vermin resistant covering is essential.
The wire used for both the interior of the kennel and the exterior of the pen should be of the proper gauge to withstand any abuse that the breed of dog(s) you own might dish out. Easy access guillotine style hatches between the inside and outside offer the opportunity to turf the dog outside when you are cleaning up and can be left open for freedom of movement as desired.
Ventilation Matters
All animals need fresh air and windows, soffits and vents can provide the valuable health benefit that fresh air provides. Insulation will keep your pet cooler in summer and warmer in winter.
Ask about heat and air-conditioning and other popular options for our kennels.
Appearances Count
You will most likely be placing the kennel in view of your home and its appearance can easily complement your house in colors and materials. Whether you want a shingle roof or metal roof, vinyl siding or wood siding, a wide choice of color and materials for all siding and roofing and an array of different designs can make the kennel perfect and pretty.
Price
As with anything else you get what you pay for and when you shop for a kennel you need to keep an eye on the price and on the quality of the building. A well-constructed outdoor doghouse will give years of pleasurable use and provide a safe, secure environment that not only protects your pet from harm, but also protects him from errant visits from neighbors' dogs or other animals. When shopping, don't forget to ask about financing as many larger manufacturers offer some excellent options through third party lenders so you don't have to wait for your kennel.
Quick and Easy Delivery
Choose a company that knows what it is about when it comes to delivery and placement of your kennel. Any special site requirements can be addressed with their experience and placement of the structure in hard to access areas can often be achieved through the use of specialized equipment by a professional operator.
Also bear in mind that kennels built on a modular platform also provide the opportunity for moving them down the road, both literally and figuratively. Manufacturers are often happy to help you with the transport if the need to move to a new house arises.
In conclusion, some due diligence now will save you much frustration later. Designs that are highly functional and beautifully built will create a home away from home for your pet. And don't forget, if you are away for a few days the kennel will also offer the opportunity for a neighbor or friend to come and take care of your pet while you are away without the expense of boarding your pet out or subjecting your pet to the noise and stress of a commercial kennel. As the kennel is outside you will be able to maintain the security and privacy of your home while your pet's needs are taken care of by others.
Don't be shy to give Stoltzfus Structures a call and benefit from their professional team's knowledge and experience. All the fabulous features you need for your prized pet's comfort are just a phone call away.
Share This Post: