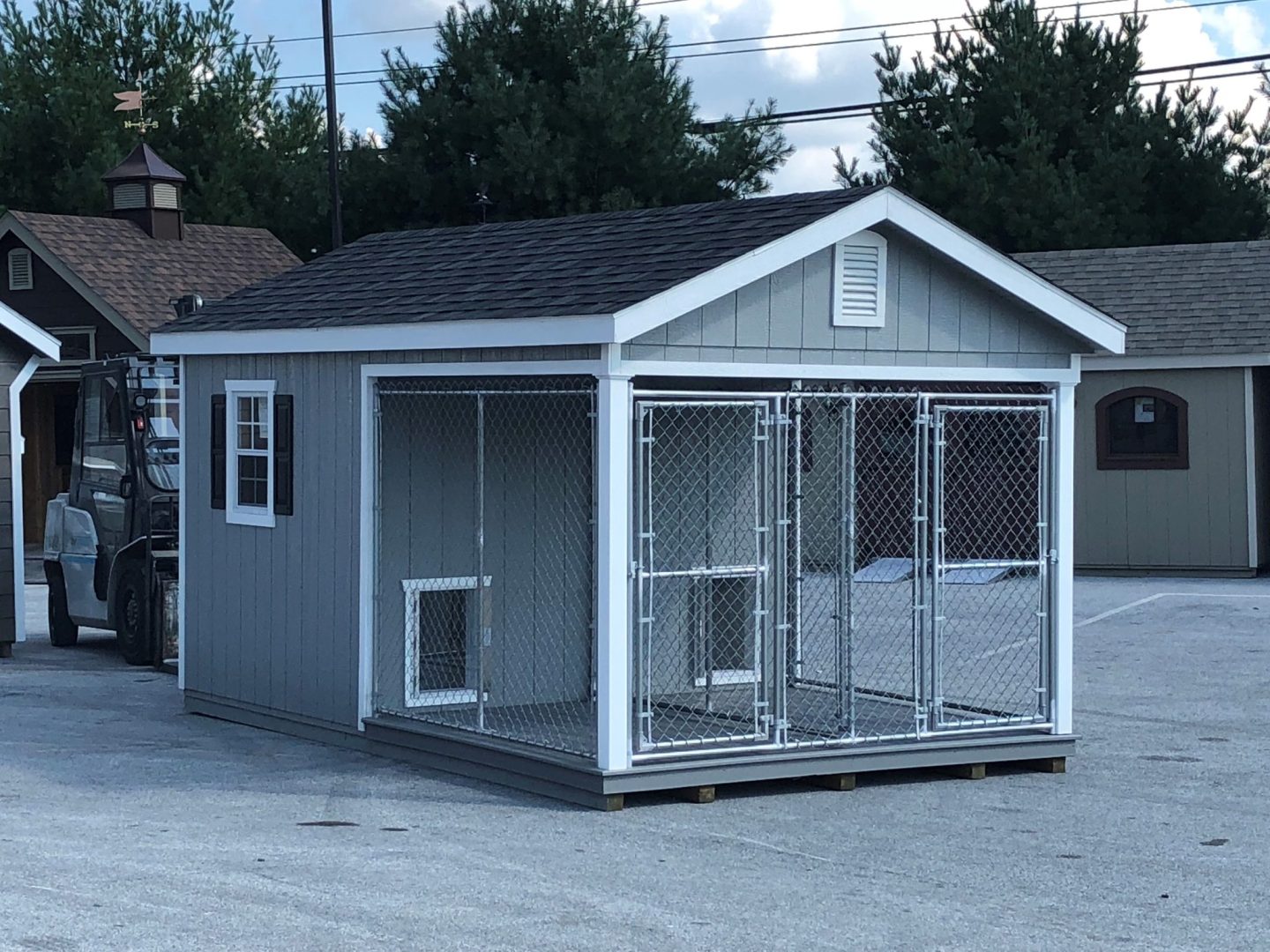 Tips for Solving Canine Care Dilemmas in Commercial Dog Kennels
Whatever the nature of your canine business, from K9 service dogs to family pet boarding to professional dog breeding, caring for the animals when in the kennel compound can be tricky. Methods to minimize risks of infectious disease and maximize safety while providing a stress free environment for the dogs are all areas of primary concern.
Here are a few tips on how to best contend with the daily care kennel cleaning chores that make up the commercial dog kennel owner's day.
Routine
Establish a routine and stick to it. Canines take comfort in knowing what to expect and when, and if you follow the same protocol and timeline each day, the dogs will learn to adapt to the parameters you provide.
Kennel maintenance done on a regular and routine basis will not only be easier do, whether it is spot cleaning or a periodic deep clean, but will also enhance the hygiene and thus the good health of the dogs. Risk of infectious disease is always present in a kennel where dogs come and go, and good cleaning routines help defray the chance that a kennel operation becomes contaminated.
Remember dogs have an acute sense of smell, and while lingering odors may offend our human noses, the dogs living in the boxes are subjected at a minimum to an unpleasant smell and at worst to obnoxious gases that urine and feces may produce.
All kennels should be designed with good ventilation, as animals benefit from fresh air. Gable end vents, soffit vents, doors and windows all work together to encourage air movement to avoid stale air. Light colored interior materials are best as these are not only light reflective making the atmosphere more pleasant but also showcase where areas need more attention for clean down.
The People Factor
If you run a busy, commercial dog kennel operation, the staff may change from time to time. For rescues the nature of volunteer help, even when under supervision, will naturally involve a myriad of individuals participating in the daily care routine some of whom will be more comfortable working with the dogs than others. Animals do learn to trust their handlers, and if you are not directly involved with the animals yourself and rely on others to help out with cleaning chores it is wise to minimize direct contact between dogs and staffers.
For this reason, dog kennel design counts. A kennel that has units that each offer a dog box with a dog pen attached with the provision of a guillotine style door between allows for the dog to be dispatched to the outside of the kennel box when it is cleaning time. This necessarily means less direct interaction between animal and human caregiver, and this can be a plus especially for rescues or for canine boarding operations where the dogs being housed are a variety of different animals.
High traffic commercial kennels such as vet clinics and boarding operations, K9 obedience trainers with service animals, can all benefit from an inside/outside set up that does not require the dogs be handled or moved to an adjacent kennel for cleaning.
The guillotine door option is also valuable from a hygiene standpoint, as dogs can be kept in their own areas thus requiring less cleaning overall, as multiple kennels do not need to be used within one unit just for the purpose of removing the dog from his box to another while cleaning or requiring a handler to walk the dog while cleaning is completed.
Make The Cleaning Count
Floors and walls of the kennel all need to be sealed and made of materials that will withstand the daily dog abuse that paws and claws will dish out. Importantly all surfaces must be easy to clean and care for on a daily basis. The advent of such products as Polyurea floors, inside a properly crafted and well-built kennel that is designed with fully sealed floors and proper drain placement makes life much easier than trying to work with cold concrete floors.
Drains that are placed in the center of a dog box are not the best option. A drain run placed on the floor by the exterior wall INSIDE the kennel that runs the entire side of the kennel boxes is ideal. Not only does fresh air from the guillotine doors help defray odors with this placement, but the drainage channel can be easily hooked up beneath the kennel at the end of the building to sewer pipes to take liquids away from the building.
Furthermore, as the drain is not circular, proper sealing of the floor to the drain is simpler to attain.
It is important that the cleaning that is done in the kennel counts! Effort does not need to be wasted. Utilization of the right cleaning product, whether it is for spot cleaning or deep cleaning is important.
Stoltzfus Structures, a leader in the commercial kennel industry, offers Polyurea flooring in their huge array of kennels both residential and commercial, and together with the manufacturer of the Polyurea product, advocates the use of Simple Green Pro-5 as a safe and effective cleaner and disinfectant for use with their range of kennels.
Whatever product you choose ensure that the disinfectant is not toxic to dogs, cats or humans and that it addresses both gram-negative and gram-positive bacteria. The former is typically harder to kill, so choose a cleaner that is proven to work on both types.
Moving Dog House Dilemmas
When you have a canine contingent in your care obviously exercise is an important part of their care in order to keep them happy, stress free and healthy. While dogs may be taken out for exercise to another enclosed space or leash walked it is inevitable that the dogs will spend a considerable amount of their time in a captive environment.
Your kennel can quickly become a stressful barking frenzy that will overwhelm certain dogs. Intimidation by one dog over its neighbor can be extremely stressful and adversely affect the confidence, training and contentment of the less assertive or aggressive animal.
How can you mitigate this? The use of a solid divider between dog boxes is one solution, and dog runs can also benefit from a solid divider being utilized. The divider should be cleanable and the use of Azek boards for both their reflective white color and durability is a great design. Dividers can mitigate barking as well as provide a feeling of safety for each dog box occupant.
When your kennel also has the in/out door design to a pen, you won't have to worry about having additional staff on hand to walk dogs while cleaning tasks are completed. All the dogs can be put outside together while the entire interior clean up is undertaken and the interior can be left to fully dry before the dogs are reintroduced.
I recently put my two Labradors into a kennel for boarding while on vacation. When I picked them up after two weeks, both dogs had sores on their ventral sides, missing coat and redness with swelling. The kennel owner has just purchased the property and it was his first few weeks of operation. On investigation I found out that he cleaned each dog box separately, and water had run from one to the other resulting in my dogs being on a wet floor for part of the day. Not ideal! And the concrete floor design did not help. I was not happy! It took two weeks of treatment with a silver based ointment to recover their health to optimal status.
Fixed Feed and Water Bowls
Water bowls especially can make quite a mess when a bored dog tips them up and can leave the canine without water for periods of time you cannot necessarily determine. While all bowls should be regularly cleaned, the attachment of bowls to properly rated wire gauge kennel box doors can keep the kennel box cleaner and provide easy access to the bowls for the caregiver.
Add A Lobby
A lobby area is a very popular addition to kennel design. It is useful for storing feed and supplements, medical supplies, collars and leashes and can even act as a small office. A full height 'person' exterior access door and ceiling height is a necessity for daily comfort of the staff.
Hot and Cold Water
Provision of a hose port in the interior of the kennel is perfect for hooking up a hose for clean down. Kennels can be outfitted with electrical outlets and water heaters plus wash sinks for bathing and grooming needs. When making a kennel purchase ask about having the electrics roughed in, so that everything is ready to go when your kennel is on site.
Hot and Cold Weather
Dogs can live happily outside in a kennel year around providing the space is dry and kept clean. The option for them to go in and out of an exterior exercise space not only keeps them mentally occupied, it also allows them to make a choice as to where they would rather be at any given time.
Radiant heat has become a popular option among kennel owners, especially for canine whelping needs and for dogs recovering from medical procedures or in recovery from neglect. Caregivers also appreciate having a warm place to work!
The addition of electrical outlets means fans can also be added during periods of hot weather, but ensure the fans are commercial grade and kept out of the reach of animals (including their power cords), and that the fans are kept dust free. Commercial grade fans generally have an enclosed motor that is sealed to prevent dust build up and thus lessens any fire risk.
It is always prudent to have a working fire extinguisher handy in any structure and these should be placed in a highly visible location at the entrance to the building.
If you have questions about dog kennel maintenance or design options don't hesitate to call the professionals at Stoltzfus Structures and ask. Everyone has lots of questions and their experienced staff will ask questions that you probably haven't thought about but should. What size a kennel box is best for my dog business? Can dog boxes be adjusted in size for whelping? How do you place it on my site? Do you offer financing? (Yes, by the way).
Whatever your need and whatever your need for a kennel they can help!
Share This Post: